Do you feel like your addiction is always holding you back and running your day? Do actions that involve a lot of sexual content make you feel guilty or ashamed later? It's okay to feel this way. Many people feel this way.
Access to digital media has made porn addiction a widespread problem in the modern world. It affects people from many different ethnic and socioeconomic backgrounds.
In this blog post, we talk about porn abuse and the effects that come from it being so common. Even though it might feel embarrassing for some of you folks to face it, it's important to know how serious this problem is. Our main goal at Blockerx is to give you effective tools and advice that will help you defeat your problem.
Porn addiction is becoming more common in our society, mostly because internet pornography is very easy to access and lets people stay anonymous. Those who are addicted to internet porn can experience physical as well as mental suffering from it. Some of these are low self-esteem, nervousness, problems in relationships, and a skewed view of sexuality.
Join us as we explore the world of porn addiction treatment options to start a path of change and find a better, more satisfying way of life. By working together, we can get past problems, recognise what we've done well, and build a brighter future where addiction is no longer a problem.
Understanding Porn Addiction
Porn addiction includes a person's dangerous and constant dependence on pornography, which can hurt their mental, emotional, and social health. In this part, we'll talk more about what internet porn addiction is, what it looks like, and how it can have a big effect on people and their healthy relationships.
What is Porn Addiction?
Let's talk about getting hooked on porn. It's important to go into this topic with an open mind and without making any assumptions.
Well, it's when someone becomes too dependent on pornography in a way that hurts their everyday life and healthy relationship. Like any other substance addiction, it can be hard to get away from it. But for some people, it can become a porn habit that gets in the way of their general health.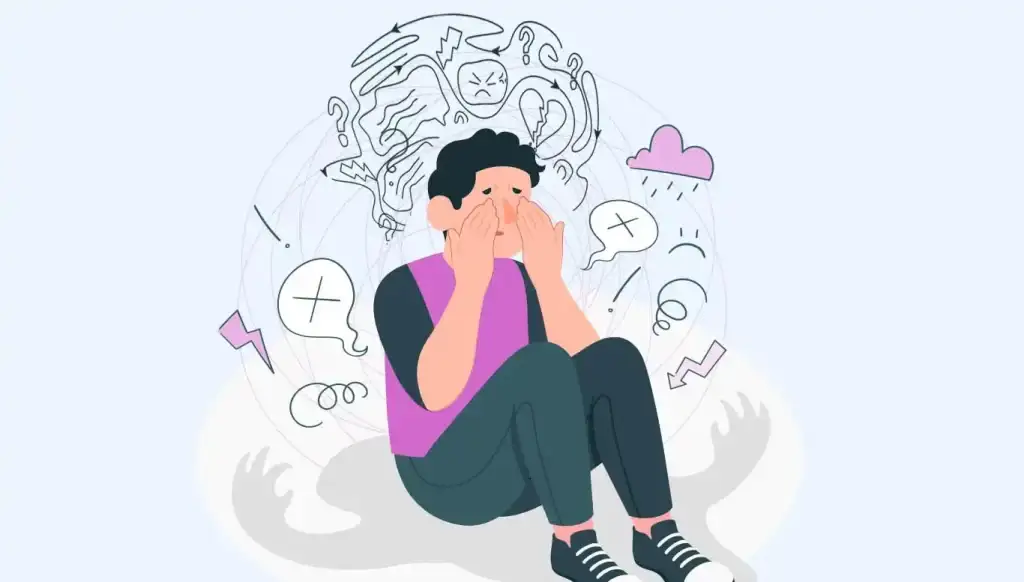 To understand porn addiction, you need to have an understanding and be aware. It's important to handle the subject with kindness and help instead of criticism. If you are a porn addict you know about other porn addicts, remember that going to a mental health professional or a support group can be a big step towards getting better. At blockerx, we aim to make a place where people who are addicted to porn can understand each other and get better.
Characteristics of Porn Addiction
Here are some points describing the characteristics of porn addiction
1. Highly Distracted
People who are addicted to porn may be easily distracted, to the point where pornography is all they can think about most of the time. This can take up a lot of their brain energy and thinking resources throughout the day.
2. Compulsive behavior
When someone is addicted to porn, they often do things over and over again. People with this problem often feel like they can't stop wanting to watch pornography. This can make it hard for them to control or stop their behavioral addictions, even if they know it will hurt them.
3. Escalation
People who are addicted to porn may find that they need more explicit or extreme forms of porn to get the same level of excitement or pleasure that they used to get from less explicit or less extreme porn. This kind of thing is called "escalation." This action could lead to a porn habit wherein you would want to look for more and more violent stuff.
4. Neglected responsibilities
One of the most important signs of porn addiction is not being able to meet important responsibilities like work commitments, social obligations, or personal goals because of how much time is spent watching sexual material.
5. Failed attempts to quit
People who are addicted to porn often fail when they try to stop or cut back on their use of it. People can feel frustrated and useless when they can't control how they act.
6. Emotional distress
Porn addiction can cause mental pain, which can lead to feelings like guilt, shame, and worry which isn't very helpful. For some people, having these feelings can make their behavioral addictions worse and keep it going for longer.
7. Interference with relationships
Another bad thing about being addicted to porn is that it can put stress on relationships with partners, friends, and family. Different things can happen as a result of this kind of behaviour, such as less closeness, communication problems, and a loss of trust in the relationships as some people can also see porn addiction similar to that of sex addiction. Some people also go through big issues like erectile dysfunction due to porn addiction which affects their sex life.
8. Withdrawal symptoms
When porn addicts try to stop watching it, they can have withdrawal symptoms that are similar to what people who are addicted to drugs go through. Some of the things that might happen are anger, fidgeting, and trouble focusing.
9. Loss of interest in other activities
As the addiction gets worse, people may lose interest in things that used to bring them joy, like hobbies, social activities, or personal goals. When people are obsessed with pornography use, they can't pay attention to much else. This makes them lose interest in other things and makes them less happy overall. Porn addiction also for many people takes a shot at their sex life.
10. Desire for secrecy
People who are addicted to pornography use often feel compelled to hide what they are doing from other people. In fact, people who watch a lot of porn can take a ton of steps to protect their privacy. For example, they might delete their internet records, use private browsing modes, or go somewhere else when they want to watch porn.
Recognizing the Signs of Porn Addiction
When it comes to spotting the signs of porn addiction, there are a few similar things to look out for in terms of how the person acts and how they feel. It's important to remember that addiction can look different on different people, and not everyone will show the same signs.
But people often show common signs of addiction by becoming more and more interested in pornography, losing interest in other activities or hobbies, and spending too much time watching sexual material. People with a porn addiction may also act secretive or dishonest, like hiding their browser history or making up stories about how much they use internet pornography.
When it comes to their emotions, people with a porn addiction may feel guilty, ashamed, or upset because of how much porn they watch. They may also find it hard to control or stop their pornography use, even if they know it could hurt their personal relationships, their job, or their general health. It's important to remember that these common signs are not proof that someone is addicted. Instead, they could be warning signs that someone needs more help and care.
Personally speaking, I saw a friend of mine go through the same. My friend Alex had been a big fan of porn use for a long time. At first, he only watched occasionally, but over time, he realised that he was watching more and more. He spent an increasing amount of time looking for sexual content, and he often forgot about his other tasks and interests. At first, he thought it was just an innocent practice, but soon he saw how it was making his life worse.
Alex's addiction to pornography started to get worse, which hurt his relationships and self-worth. He started staying away from the people, even though we would barely talk. He started recognising his addiction because it made him feel ashamed and alone. Because of his addiction, he felt guilty and ashamed, which hurt his mental health and made him feel anxious and sad. Alex knew he had to make a change, so he went to a mental health professional for help to beat his problem and take back control of his life.
It's important to know that any kind of problem, including porn addiction, can get worse over time if it's not treated. At first, someone might watch porn occasionally because it's fun or gives them a short-term break. But as a person's tolerance grows, they might need to watch more graphic content or try out different types to get the same amount of pleasure.
Over time, this can make people become ever more interested in pornography, which takes up more and more time and energy. As a person's addiction gets worse, it may become harder for them to control or stop their use, even if it hurts their relationships, and work, or results in mental health issues. This can make people feel ashamed, guilty, and afraid to talk about it, which can make their mental health issues worse.
Porn addiction can have big effects on many parts of a person's life if it isn't treated, including personal relationships, work success, and general health. But it's important to remember that healing is possible with the right help, care, and a willingness to make positive changes and follow through on more positive things.
How to Get Better?
It's a chance to learn, get better, and, in the end, get back in charge of one's life. On this road, it's important to recognise the problem and ask for help, as these are the building blocks for a good recovery.
Seeing and admitting the problem is the first and most important step towards making a change.
Face the truth of our problems and stop thinking of them as a mental illness, whether they are connected to mental health, addiction, or something else, takes courage. By admitting that there is a problem, we show that we want to solve it and open the door to finding good answers and undertaking positive things.
Helping yourself is just as important. No one should have to go through hard times on their own. Seeking help from experts, support groups, or trusted people can give you advice and confidence that can help you get better. These tools give you access to specialised information, understanding, and a network of people who have been through similar problems.
Remember that asking for help is not a sign of weakness but a brave way to take care of yourself. It shows that we are ready to put efforts into our health and make changes for the better. Also, asking for help can lighten the load we may have been quietly holding by letting us talk about our experiences and feelings with people who really care.
By admitting the problem and asking for help, we start on a path that will change us and lead us to healing. It might not be easy all the time, and there might be problems along the way, but the upsides are huge. As we work through our problems and get better, we gain grit, self-awareness, and a renewed sense of purpose.
Sources of Support for porn addiction recovery
It's important to remember that you're not alone when things are rough. There are many options available when it comes to sources of help and healing that can help you get through hard times and find your way to getting better. Here are some important places to look for help:
1. Friends and family
The people you care about can be a great source of support. They can listen and give mental and physical support when needed.
2. Therapists and counsellors
Therapists and counsellors who are mental health professionals and are trained to give advice and help. They can help you figure out how to deal with your feelings and thoughts, grow as a person, and feel better. Find a licenced expert who specialises in the things you are having trouble with such as behavioral therapy.
3. Support groups
It can be very motivating to talk to people who have been through similar problems. Support groups, whether they're in person or online, give people a safe place to talk about their experiences, learn from others, and feel like they fit in and are understood. You can find support groups for things like mental health, getting over an addiction, dealing with loss, and more.
4. Organisations in the community
Many towns have groups that help people who are in need. These groups viewing habits
give a wide range of services, such as emergency help, counselling, help finding a job, and cash support. Get in touch with community centres, non-profits, and faith groups in your area to find out what services they offer.
5. Online tools
There are a lot of help and healing tools on the internet. There are blogs, groups, videos, and websites that are all about specific things, like self-help, mental health, getting over an addiction, and growing as a person. These sites can help you find useful information, get ideas, and feel connected.
6. Self-Care and Wellness Habits
Taking care of yourself is very important when you are trying to get better viewing habits
. Do things that make you feel good, like working out, meditating, keeping a journal, doing something artistic, or spending time in nature. Taking care of your physical, mental, and social health will help you get better as a whole.
Rebuilding a healthy relationship
Let's talk about how to get back on track with your sexuality. I know that your road hasn't been easy and that you've had to deal with problems that have hurt your sense of self and your relationships. But today, I want to remind you of how strong you are and encourage you to accept the power of healthy relationships to change your life.
You've dealt with your problems head-on and are now stronger than ever. As you start this new part of your life, it's important that you rethink what healthy sexuality means to you. It shouldn't be tainted by bad memories or events from the past. Instead, it should be a party of joy, connection, and self-discovery.
Open dialogue is a key part of getting back to a good relationship with sexuality. Don't forget that your wants are important and should be heard. Sharing your thoughts honestly with a partner or even with yourself can help you get to know them better and build trust.
Another important part of your journey is getting to know people better. Rediscover the pleasures of touch, find out what makes you happy, and don't be afraid to try new things in a way that makes you feel safe. This is your journey of self-discovery, and you can make it something that makes you happy and gives you power.
As you start this new stage, I want to stress how important it is to accept yourself and have a good opinion of your body. Your body is a beautiful vessel that should be treated with love, respect, and joy.
Accept the uniqueness of your body and question any negative consequences or thoughts or social forces that may have affected how you feel about it. Don't forget that your body deserves pleasure and love just as much as you do.
During this process, it's normal to feel vulnerable and unsure of what to do next. Remember that getting out of your comfort zone is often the best way to grow. Be kind to yourself and enjoy even the smallest steps forward. Healing is a process, and every step you take, no matter how small, shows how strong and tough you are.
Ask for help from trusted friends, family members, or mental health professionals who can guide you and help you understand. Surround yourself with people who make you feel good and build an atmosphere that helps you grow.
You have the power to change your view of sexuality and start over with a healthier one. Accept the power of open conversation to change things, explore closeness with interest and respect, and work on self-acceptance and having a good body image.
Use BlockerX on Android to restrict content
You may use BlockerX to prevent pornographic material on Android by following these steps:
BlockerX should be installed:
To download and install the app, go to the Google Play Store on your Android smartphone and search for "BlockerX – Porn Blocker" or visit the BlockerX website.
After installing the app, look for the BlockerX symbol on your home screen or in your app drawer and touch on it to launch it.
When you first use BlockerX, you will be required to make an account. Set up your account with a username and password by following the on-screen directions.
Activate the Accessibility Service:
You may install BlockerX as a device administrator for more thorough blocking. Users will be unable to remove the app without your consent. To activate this capability, tap "Set Up Device Administrator" and follow the on-screen instructions.
Allow BlockerX to Control the Situation:
Allow BlockerX to take complete control of your phone to keep you in command. Allowing full control allows Blockerx to watch and control your screen at all times, as well as view and take essential actions.
Filtering Categories Can Be Customized (Optional):
You may configure the filtering categories in BlockerX to block certain sorts of information. Tap "Customize Filtering Categories" to see the available categories and make any necessary changes. You will be given three options: "Off", "ON", and "STRICT".
BlockerX provides several degrees of protection depending on your choices. Select the appropriate level by pressing "Choose Protection Level." You may choose between basic, moderate, and stringent blocking. A greater degree of security will result in more aggressive content screening.
You may now surf the internet with the confidence that pornographic material will be prevented, thanks to BlockerX. The program will continue to operate in the background, monitoring and blocking explicit material across your Android device's applications and browsers.
Block Porn on IOS using BlockerX
Go to the App Store on your iOS device and search for "BlockerX – Porn Blocker." Download and install the app on your device.
2. Once the installation is complete, open BlockerX on your iOS device.
3. Create a new account with your email address. Alternatively, sign in using Google or with an apple account or email.
4. Tap on the "Blocking" option, wherein you get various prompts regarding blocking porn, panic switch etc.
5. If you want to block additional websites and any specific websites, select the add website category and add the website URL.
6. In the blocked website category, you can check all the blocked website
BlockerX will now start blocking pornographic content based on the settings you have chosen. Whenever someone tries to access explicit content, they will be redirected to a blocked page or receive a warning message.
Conclusion
To understand porn addiction, you need to have compassion and not judge and make it a normalized concept wherein we stop thinking about it as a mental illness. It's important to know what addiction looks like and how it can affect a person's mind and heart in order to help and guide them. Also, recognising the possible effects on relationships and general health shows how important it is to deal with this problem in a caring and thorough method while using the options available for treatment. By helping people understand each other, we can make it easier for people who are addicted to porn use to heal and get better.